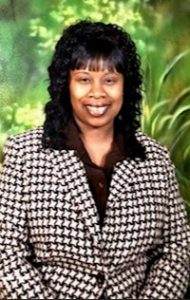 Since graduation, Tametrice Strickland (BA '95; MEd 2010 ) has worked in the field of K-12 education in Quitman County, as teacher, administrator, and director of the first Alternative Pathway to Excellence Program.
Strickland earned her MA in curriculum and instruction from UM, participated in educational leadership programs, and earned an educational specialist degree from Arkansas State University. A former principal at Quitman County Middle School and assistant principal at Madison Shannon Palmer High School, she is now the principal at Quitman County Career and Technical Center.  She uses her knowledge and leadership with many regional and statewide educational initiatives.
Yet Strickland has never given up her love of creative writing.  She continues to compose poems and short stories, and she hopes to one day publish her work.
On July 18, 2017, US Congressman Bennie Thompson recognized Tamertirce Strickland on the floor of the US House of Representatives and in the Congressional Record.
As stated in the record, "she became the director of the first Alternative Pathway to Excellence Program in Quitman County School District. She worked with students who really needed a second chance and assistance with academic and behavior and tried to inspire them to achieve
their goals. Instead of going from the pipeline of school to prison, her students went through the pipeline of school to school, college or a
career.
She is an inspiring example of dedication and determination. During her lifetime, she has strived to support and empower instructors and provide support, opportunities, and pathways for students to excel. Her former students are now innovative, highly qualified instructors, visionary administrators, effective managers, responsible nurses, and productive leaders."
Why study English at the University of Mississippi?
"Sir Anthony Seldon once stated, 'Education is a once in a lifetime opportunity to open children's hearts and minds to the unbelievable wonder of the universe.' The faculty shaped my love of education, poetry, and short story, and stimulated my creativity. Letters on a page formed words that became life.
The works of William Shakespeare, Richard Wright, the writers from the Renaissance period, and other outstanding writers sparked my interest and passion for reading and creative writing. UM faculty are so advanced in preparing students that methods and resources introduced to me decades ago are still effective in the classroom today. English is global, and it opens the doors to unlimited opportunities and career paths."