English Student Ambassadors

Emily Suh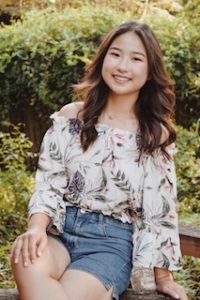 An English and Linguistics major, Emily is principle oboist in the University of Mississippi Symphonic Band and a member of the Korean Students Association. In her spare time, Emily enjoys reading, watching anime, and admits she may watch too much Saturday Night Live for her own good. 
Why did you choose to attend UM?
Mostly because the University of Mississippi was closest to home and gave me the best financial aid. However, I also fell in love with the campus and the fact that the English department is very good.
When and why did you choose your major(s)/minors?
I chose my major early on in high school. My AP English teacher inspired me to pursue English because I want to be like her when I'm older. I chose Linguistics because I have a love for languages and how they work. This stemmed from my participation in spelling bees when I was a child.
What are your career plans?
Honestly, I'm still not very sure. The two strongest candidates are teaching and publishing.
What will be your legacy at UM?
I hope to be able to come out of Ole Miss as an inspirational student and be able to represent UM in a positive way!
Is there a professor who has been particularly helpful to you?
I have had so many professors who were helpful to me, most of them my English professors/professors in the English department. My creative writing professor (Professor Beth Spencer), my Victorian Literature professor (Dr. Deanna Kreisel), my Survey in Literary History professor (Dr. Kate Lechler), and my Honors professor (Dr. Daniel Stout) were wonderful and gracious professors. Sometimes I would have a meltdown and contact them, and they were always ready to help.
What do you like to do outside of school (hobbies, interests)?
I like to read and write. I'm taking lessons at UM to further my skills with the oboe. You can also catch me watching Disney movies or Parks and Recreation/Brooklyn Nine-Nine/Modern Family. I also watch anime! When I'm bored, I like to make playlists on Spotify (my username is emilysuh0308).
What are you binge watching/reading/listening to?
My taste in music is very versatile. Honestly, if it's trending on TikTok, it's on my playlist. I am currently watching the new Lokiseries on Disney+. I am a huge Loki/Bucky/Sam/Wanda stan. As for the books I read, I read a lot of what's trending on Booktok, and I try to find other books that my teachers/professors recommend.
What are some dream travel destinations (and why)?
I would love to go to a lot of places, but I really want to go to the European countryside. I know that's very vague, but I am literally willing to travel to any European nation as long as I'm able to go to the countryside and enjoy the natural beauty there.
Annabelle Harris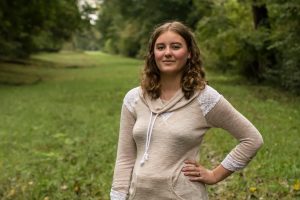 Annabelle Harris –a classics and English double major -is a writer of young-adult fiction, a motivational speaker, and a journalist. Her novel, Ode to Rebellion, was on the state bestsellers list of her native Oklahoma. She has given inspirational talks at high schools about the craft of writing and the importance of "following your dreams." On campus she writes for the Daily Mississippian, the award-winning student newspaper and is vice president of Cover-to-Cover.
Why did you decide to major in English?
I decided to major in English because of my love of writing. I know that there is still so much to learn about creative writing, and majoring in English: Creative Writing is the stepping-stone to becoming a better writer.
Why is the UM English department a special place?  What do you love about it?
UM English department is a very special place because of the literary ties that exists here at Ole Miss. There is also such an amazing fostering of ideas here, and inspiration everywhere. I especially love how the UM English department helps students nurture their ideas because there is a story in everything; it is just waiting to be told.
Are you doing any activities related to your English major?
My main focus the next few semesters is to take the many creative writing courses that are offered here at UM. I hope, with the help of these courses, to finish my next novel in my Ode to Rebellion series.
Is there a moment that you felt empowered as an English major?
Just this semester I took a creative writing course that was very poetry centered, I have never been fond of writing poetry because it did not come as easily as prose. However, in this class, I was able to explore poetry as a writer and not a reader, as there is a huge difference. I ended up writing several poems of which I am particularly proud. Now, I am not afraid of poetry.
Is there an experience you can share about a professor being particularly supportive or mentoring you?
My new exploration of poetry is thanks to Professor Hobbs, who taught the Intro to Creative Writing class I took. I would never have been able to write poems I was proud of without her help. She offered amazing critiques to my classmates and me. This allowed us to workshop our writing then edit and make it even better than before.
 What do you enjoy doing outside of academic pursuits at UM?
Other than my academic pursuits, I love to write. I also love crafting (scrapbooking and painting). I like to listen to music, binge Netflix, and read!
What is your go-to meal in Oxford?
My go-to meal is cheese quesadillas and a chocolate milkshake or coke float at Cook Out.
What are you binge watching?
The Mandalorian! I have to be ready for the next season!
Anna Reese Couhig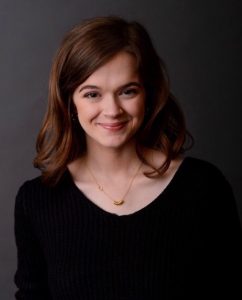 An honors student who is a double major in public policy leadership and English, Anna has been involved widely on campus. She was part of the Associated Student Body First Year Experience, the Chancellor's Leadership Class, UM Student Alumni Council, Delta Delta Delta Sorority, and Chief of Staff for TEDxUniversity of Mississippi. Her community service is extensive, including Grove Grocery, Rebelthon, Big Event, Oxford Recycling Center, senior living centers, and hospitals.
Why did you choose to attend UM?
I attended UM for a pre-college program in the Lott Leadership Institute the summer before my senior year of high school. During this program, I fell in love with the atmosphere on our campus. I enjoyed my classes and my professors, and also met some amazing people. This experience allowed me to experience a small portion of college life, and really cemented the idea that Ole Miss is the place for me.
When and why did you choose your major(s)/minors?
I am a Public Policy Leadership and English double major. I chose both of these majors because each one is an area of study that is very interesting to me. I started with Public Policy Leadership because I wanted to learn different ways to create changes in our society. I chose to addEnglishbecauseIlovereadingandwriting,andhadsomereallygreatEnglishprofessorsat Ole Miss. I also thought the combination would allow me to extensively develop my writing and critical thinking skills to prepare me for lawschool.
What are your career goals?
After undergrad, I want to go to law school and pursue a J.D. with a joint degree and either a Masters of Public Policy or a Masters of Public Health. Following law school I'm really not sure, but my end goal is to work as a public interest lawyer in health care advocacy.
Is there a professor who has been particularly helpful to you?
One of the first English professors I had at UM, Dr. Kate Lechler, created such an engaging environment that her class inspired me to add English as my second major. This was a particularly difficult thing for her to do, because I took her class during the height of COVID, and it was entirely virtual. However, even through Zoom, Dr. Lechler's class was very interesting and there was a sense of community that she created.
What has been a particularly meaningful way you have engaged in a community – either on or off-campus?
I am currently the Chief of Staff of TEDxUniversity of Mississippi, which is a very unique organization because it connects the Ole Miss community with the Oxford-Lafayette community. Each year we put on an event with Ted talks that have speakers from all backgrounds. We have had student speakers, coaches from Oxford High School, and many more. We invite anyone to come to the event and listen to these speakers, and join in conversations with one another. TEDxUM engages with both the on campus and off-campus communities, and I love being a part of it.
What are you binge watching/reading/listening to?
I'm currently watching Ted Lasso on Apple TV. It's such a funny show I would definitely recommend it.
What is your favorite place to eat in Oxford?
My favorite place to eat in Oxford is definitely South Depot! Kind of basic, but I love it.