MFA in English
Currently celebrating its tenth year, the University of Mississippi MFA in English has been ranked one of The Atlantic Monthly's "Top Five Up and Coming Programs," and is listed among the Top Fifty MFA Programs by Poets & Writers. The Poets & Writers MFA rankings "measure sixteen distinct program features for each of the 148 full-residency programs."
Features include funding, cost of living, selectivity, teaching load, curricular structure, and placement of graduates. That a program only ten years old has cracked the Tier One ranking is a notable accomplishment—congratulations to our current students, our growing list of distinguished alumni, our faculty and our supportive administration for this recognition.
Our program is small (about 6-8 students are accepted with full funding each year) and supportive. Students here benefit from our well-endowed readings series (the fall of 2020, Visiting Writers included Eduardo C. Corral, Kaitlyn Greenidge, and UM MFA Alum Molly McCully Brown) and interactions with the John and Renee Grisham Writer-in-Residence (a yearly appointment for an emerging Southern writer).
A student-run readings series and our literary magazine, The Yalobusha Review, are just some of the opportunities that our students can take advantage of. Our environment is close-knit and encouraging, and the University of Mississippi was ranked in The Chronicle of Higher Education's 2010 list of "Great Colleges to Work For." We are located in Oxford, Mississippi, home of Faulkner's Rowan Oak, literary conferences, the best bookstore in the South, an active music scene, and great restaurants, 70 miles from Memphis.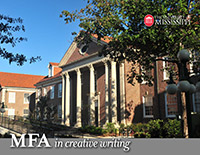 Ph.D. in English with Creative Writing Concentration
PROGRAM DESCRIPTION
The Ph.D. in English with Creative Writing Concentration (C.W.C.) is designed to prepare creative writers who have completed a creative writing M.F.A. to teach university-level literature and writing classes. The program provides an academically rigorous set of requirements designed to expand students' knowledge of both a literary-historical field and some of the theoretical and aesthetic questions relevant to their own creative work and teaching interests. The objective is to prepare students to teach creative writing at the graduate and undergraduate level and literature courses at the undergraduate level. The C.W.C. program considers applicants who have completed an accredited M.F.A. program. The C.W.C. program is designed to grant students a Ph.D. in three years.
Our celebrated faculty represent a broad background in the creative arts including poetry, fiction, creative non-fiction, screen writing, and memoir writing. Additionally, our critical faculty offer expertise in American, British, and Anglophone literature, as well as literary and cultural theory, gender studies, postcolonial and global studies, critical race theory, cultural studies, history of the book, and digital humanities and textual science. Graduate Students at the University of Mississippi benefit from the department's close ties to other academic departments and programs, including the Center for the Study of Southern Culture, the African-American Studies Program, the Department of Writing and Rhetoric, the Environmental Studies Program, the Sarah Isom Center for Women and Gender Studies, and the Southern Foodways Alliance.
Students interested in applying should submit the following:
Statement of Purpose
Transcripts
GRE scores
Three Letters of Recommendation
Creative Portfolio (10 pages of poetry / no more than 30 pages of fiction)
Critical Writing Sample (20-25 pages)
The deadline to apply is December 15th.
To apply now, click here.
Navigate to English Ph.D. and select Liberal Arts – English Creative Writing Concentration Ph.D.
For a full description of the Ph.D. in English with Creative Writing Concentration, click here.