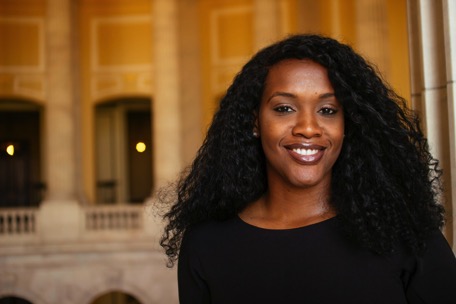 June 18, 2020 by Leighton Griffin (BA '20)
Nicole Tisdale — author, advocate, and teacher — is a powerhouse.
She has thrived professionally throughout her long and interesting career working for Congress in Washington D.C.. Currently, she is the founder and principal of Advocacy Blueprints, a consulting firm that provides expertise in congressional advocacy. She is also a senior advisor on national security issues at Cambridge Global Advisors. How did this political science major, with an English minor, become a multiple-hat-wearing consultant in the high-powered circles of Washington, DC? I had the chance to talk with Tisdale recently to learn her story.
Before completing law school at the University of Mississippi in 2009, she accepted a job in the U.S. House of Representatives Committee on Homeland Security. She spent her entire Capitol Hill career working for the committee, and began in an entry-level position as a professional staffer for the committee. Tisdale said when she was a staffer on Capitol Hill she was "constantly doing research and writing."
As a staffer, she looked at the first drafts of legislation and tried to make sure that the policy addressed the end goals. Professional staffers are involved in intensive legislative research projects. For example, shortly after joining the committee, Tisdale began to work on the maritime portfolio, helping to draft laws and policies regulating the nation's ports of entry. Although Tisdale grew up in landlocked Nettleton, MS, she nevertheless excelled in this role due to the stellar writing and research skills she developed as an undergraduate at the University of Mississippi.
In 2013, after four years working on the maritime portfolio, she transitioned to a Counter terrorism and Intelligence subcomittee postion within the Committee on Homeland Security. She served in that role until 2019, during which time she also assumed responsibilities on adjacent subcommittees. As she developed more experience drafting policy and legislation, Tisdale also found herself working on a variety of congressional task forces created for more immediate and limited-duration issues. Tisdale explained to me, "Right now, for example, Congress has set up task forces in response to COVID." The work of every task force culminates in a written report with recommendations for legislation. Tisdale told me, with a mixture of pride and excitement, "I got to help write up a lot of reports."
In all of these positions, Tisdale confided, she often began with limited subject-matter expertise. As she sees it, however, that benefited her in that it opened up many opportunities to learn more things. "If you can write and if you can research, you can learn any policy issue," Tisdale says. "Policymaking does not happen without writing. Anybody can talk about policy or legislation, but at some point somebody has to sit down and write these speeches and pieces of legislation that these members of congress are giving and introducing."
One of her other roles, while she was on the Homeland Security Committee, was working on outreach and coalition building, which she likens to being a "publicist for the committee." Her job was to cultivate awareness of the committee's work and to increase the committee's engagement with people in private industries and in community groups. This involved listening to people and gathering information regarding the security issues on which the committee was working.
Tisdale left the Hill in May 2019 and began working at Cambridge Global, a firm with which she often worked during her time on Capitol Hill. Among the areas on which Cambridge Global consultants advise are cybersecurity and election security issues. "Post-2016 election, as a staffer, I was doing a lot of work with them to help not only develop policies and legislation but also figuring out some of the questions we should be asking about the 2016 election, to prepare for future elections."
At the same time that her career was beginning at Cambridge, she recalls, "I had already decided that I was going to start my own company where I could focus on teaching people how government works." However, she emphatically tells me, "I didn't want to give up the national security arena." Concerned by the lack of gender, racial, and regional diversity in the national-security sphere, she felt it was important to stay engaged in a sector in which there are relatively few women and people of color. Tisdale argues that problem-solving is most effective when the government is accessible and a variety of perspectives are engaged. This is why she founded Advocacy Blueprints, a consulting firm that focuses on Congressional education, training, and consulting. Her company works with a wide range of clients–corporations, community groups, and individuals–on congressional advocacy training. The company offers customized courses, seminars, workshops, and consultations. As Tisdale sees it, too often there is a disconnect between Congress and the people it serves. "People don't even know how to access Congress." Although it is easy to be cynical, Tisdale argues that most members of Congress and their respective staffs want to be helpful to their constituents, and that government works best when Congress and its constituents work together to solve problems.
Tisdale says, "I've always enjoyed teaching." As an undergraduate, she often tutored other students, and later, during law school, she worked as a substitute high school teacher. So teaching people how to access and work through Congress is in many ways a culmination of her experience and interests. "These government bodies are among the oldest institutions in our country, and many are afraid to navigate them," she said.
In addition to her work as a consultant, Tisdale remains active in the community, serving as a board member of the Mississippi Society of Washington, DC–a non-partisan nonprofit created to advance Mississippi public interests. She is also part of a workgroup that is currently examining best health practices and remote voting procedures for Congress during the pandemic. As the world turns, Tisdale remains out there, working on ways to make government work for the people.