Alternate process photograph by Wes Fowinkle at Memento Tintype Photography in Memphis, Tennessee.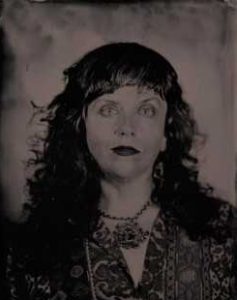 Jennie Lightweis-Goff's teaching and scholarship challenge the centrality of nation and periodization to literary studies, exploring minor spaces – smaller than nations or regions – as literary archives with vast temporal boundaries. As an instructor at UM's Desoto Center, she engages with the full span of U.S. Literature, from the colonial period to the present, with attention to urban studies, feminist theory, southern studies, critical race theory, and film and visual studies.  She frequently teaches seminars like the Southern City in U.S. Literature, Slave Narrative and Neo-Slave Narrative, Afro-Caribbean Literature, The Cinematic South, and Gender and Cinema. Her writing tarries in cities, alleys, sidewalks, hotels, and houses across centuries, nations, and overdetermined literary epochs. Trauma, she argues, scrambles time and shreds map. Writing on trauma can benefit from following scraps and fragments outside of conventional archives and schematic histories.
Lightweis-Goff earned a Ph.D. in English, as well as Graduate Certificates in both Gender Studies and Africana Studies from the University of Rochester. Since then, she has taught at Hobart and William Smith Colleges, Tulane University, the University of South Florida, and the North China University of Technology in Beijing. Committed to making the humanities accessible outside of elite spaces, she has taught and learned in classrooms in prison, and has advocated for fairer treatment of precarious workers in the "crisis academy." Taken together, non-traditional students, contract workers, and contingent faculty constitute a new majority on campus, and a potential source of political and social power, should they see their interests in coalition.
Her dissertation, Blood at the Root: Lynching as American Cultural Nucleus, won the Susan B. Anthony Dissertation Award in Women's and Gender Studies from the University of Rochester, as well as the SUNY Press Dissertation / First Book Prize in African-American Studies. The SUNY Press published Blood at the Root in 2011. Her current project, Captive Cities: Urban Slavery in Four Movements, examines the constrained literary and visual archive of urban slavery in the U.S. South. On the way to completing a book on captive cities in the 19th century, she has written a series of meditations on modern and contemporary representations of the urban south by writers as various as Margaret Mitchell and Jamaica Kincaid. Articles from these projects have appeared in American Literature, Signs: A Journal of Women in Culture and Society, the minnesota review, south: a scholarly journal, and the LSU collection Small Screen Souths: Region, Identity, and the Cultural Politics of Television (2017).