Join us for two upcoming career workshops with individuals who have used their English degrees in unique ways.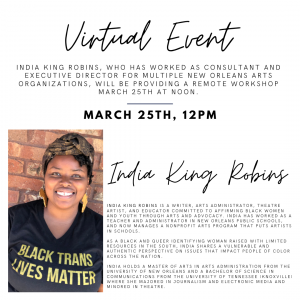 India King Robins, who has worked as consultant and executive director for multiple New Orleans arts organizations, will be providing a remote workshop March 25th at noon.
Nancy Bercaw, Deputy Director of the Smithsonian's Center for Restorative History and beloved former UM professor, will be offering a workshop at 4:00pm on March 28th, in the Tupelo Room at Barnard Observatory.