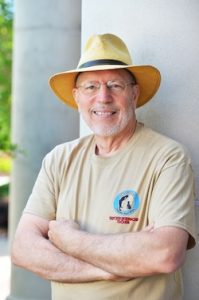 Education
Ph.D., Indiana University (1972)
M.A., Indiana University (1967)
B.A., Grove City College (1965)
Teaching and Research Interests
nonfiction writing
composition
writing theory
writing program administration
Selected Publications
Soldier's Son. Jackson, MS: The University Press of Mississippi. March, 2004.
"Writing Program Administration Theories," in Theorizing Composition: A Critical Sourcebook of Theory and Scholarship in Contemporary Composition Studies. Mary Lynch Kennedy (ed.). Westport, CN: Greenwood Press, 1998. (Dictionary Entry)
The New American Rhetoric. New York: HarperCollins, January, 1993. (Freshman English textbook)
Writing Practice: A Rhetoric of the Writing Process. New York: Longman, Inc., 1984. (Freshman English textbook)
"A New Millennium for the Writing program," in Administrative Problem-Solving for Writing Programs and Writing Centers. Linda Myers-Breslin (ed.). Urbana, IL: National Council of Teachers of English, 1999. 167-179.
"From Icon to Partner: Repositioning the Writing Program Administrator," in Theorizing and Enacting Difference: Resituating Writing Programs Within the Academy. Joe Janangelo and Kristine Hansen (eds.) Portsmouth, NH: Heinemann Boynton Cook, 1996. 151-159.
"Responding to Student Writers," in Twelve Readers Reading. Ronald Lunsford and Rick Straub (eds.). Cresskill, NJ: Hampton Press, 1996.
"A Writing Program Administrator's Response," in Writing Theory and Critical Theory. John Clifford and John Schilb (eds.). New York: Modern Language Association, 1994. 262-270.
Office
W210 Bondurant Hall
662-915-5500
Curriculum Vitae
Website
wgbwm at olemiss.edu