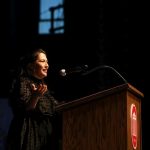 On the evening of February 7th, the University of Mississippi was honored to host the 24th U.S. Poet Laureate Ada Limón to give us our annual Baine Lecture in Fulton Chapel. Ada Limón has written five poetry books, one of which is The Carrying, which has won the National Book Critics Circle Award for Poetry. Her new collection The Hurting Kind reckons with vulnerability and grief in a startling and broken world. Her lecture Tuesday night was on "What Poetry can Do."
Dr. Caroline Wigginton, the Chair of the English Department went onstage to welcome everyone. She started by telling everyone the meaning of the Baine Lecture and its mission to showcase paradigm-shifting research and groundbreaking writing. "Ada Limón emblematizes our hope for the future," Dr. Wigginton said. She then stepped off the stage, making way for Aimee Nezhukumatathil, creative writing professor at University of Mississippi and author of World of Wonders.
Professor Nezhukumatathil described Ada Limón as "a bright light in a dark time," adding that she writes with "incredible emotional honesty." Limón's book The Carrying portrayed "loss, shelter, and independency" while The Hurting Kind examines restoration through the natural world and "reckoning with vulnerability and grief in a startling and broken world." 
When Limón took the stage, her short stature was almost completely covered by the podium. Only her head was visible, but even still her presence exuded a radiance that was unmatched by anything. She started off by saying that she had never actually given this lecture before, and the University of Mississippi was going to be the first to hear it. 
As the title of her lecture conveys, the lecture was on what poetry could do for us, for the world. Her lecture sounded like a poem. Her voice was soft, warm, and welcoming. She recounted her relationship with poetry. "I love poetry and songs because it always dissolved into a memory or a feeling," Limón said. She talked about how poetry is difficult to define, and there is no one perfect meaning that we can take from a poem. "How can you tell someone who says they don't understand poetry that you don't understand poetry either?" she asked. "No one can tell you what a poem means. No one can explain to you what it is. That's what poetry is." 
But even still, the world seems to disregard poetry as another dead thing in the literary world. She referenced a New York Times article that claimed that poetry was dead since after T.S. Eliot wrote "The Waste Land." How preposterous is that? Limón asks as the audience chuckles. Just say you haven't read poetry since high school. The whole point of poetry is to find the humanity in us, to remind ourselves that we feel, are alive, and human. Limón asks us, "What if all poetry can do is to help remind us that we have feelings…? Could that be enough?"
She then brought forth the relationship of poetry in this chaotic world we live in today. "Poetry is not for our survival, but for our flourishing…. When we've had enough water, enough bread, just enough to live, we need poetry to remind us we're alive, we love, we ache…" she said. Poetry is not going to fix the world, but it helps us to feel alive. It reminds us in this technologically-advanced world that we are not just more cogs in this giant machine. We are not wandering the Earth, aimless and devoid of hope and meaning. 
Ada closed her lecture with this: "I love poetry because what even is it? And it makes me think, wow, I love life. Because what even is it?"
The Edith T. Baine Lecture Series for Scholars and Writers invites the best and brightest scholars and writers to our campus. The Baine lecturers and writers are chosen on the basis of energetic and engaged scholarship and creative work, innovative approaches, and dynamic presentation styles. The lectures showcase paradigm-shifting research and groundbreaking writing. The visiting scholars and writers are intended to expose undergraduates to the fullness of a life deeply engaged in literature while inspiring graduate students to pursue ambitious work.
Article by Emily Suh.