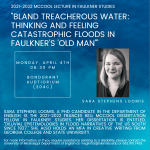 We are please to announce the 2022 McCool Lecture in Faulkner Studies featuring speaker Sarah Stephens Loomis. Loomis will deliver her lecture, "Bland Treacherous Water: Thinking and Feeling Catastrophic Floods in Faulkner's 'Old Man'" on Monday, April 4th at 6:30 pm in Bondurant Auditorium on the University of Mississippi campus.
Sarah Stephens Loomis, a PHD candidate in the Department of English, is the 2021-2022 Francis Bell McCool Dissertation Fellow in Faulkner Studies. Her dissertation is entitled, "Diluvial Epistemologies in Flood Narratives of the US South Since 1927." She also holds a MFA in Creative Writing from Georgia College and State University.
For more information or if you require assistance relating to a disability, please contact the University of Mississippi Department of English at msgilmo1@olemiss.edu or 662.915.7439.