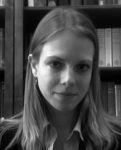 Lindy Brady specializes in Old English, medieval Irish and Welsh, Old Norse, and Anglo-Latin languages and literatures. She teaches classes largely on Old and Middle English literature and the History of the English Language. Her research interests include multilingual and transcultural approaches to the Middle Ages, the role of the landscape in literature, and representations of identity in medieval texts. Her first book, Writing the Welsh borderlands in Anglo-Saxon England, is forthcoming from Manchester University Press (2017), and her current book project is a study of insular origin legends. She is editing an essay collection, Old English Tradition: Essays in Honor of J. R. Hall (Arizona Center for Medieval and Renaissance Studies) and has co-edited, with M. J. Toswell, an essay collection, Early English Poetic Culture and Meter: The Influence of G. R. Russom, forthcoming from Medieval Institute Publications (2016). She was a Text Technologies Fellow at Stanford University in June 2015 and the A. W. Mellon Postdoctoral Fellow in Medieval Studies in the Medieval Institute at the University of Notre Dame for the 2015-2016 academic year. She also reviews scholarship for the "Poetry" section of the "Year's Work in Old English Studies" for the Old English Newsletter.
Education:
Ph.D., University of Connecticut (2012)
M.A., Brown University (2008)
B.A., Brown University (2008)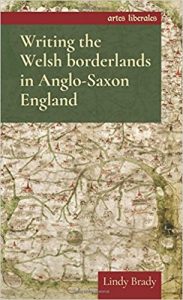 Selected Publications:
"An Analogue to Wulf and Eadwacer in the Life of St. Bertellin of Stafford," published in the Review of English Studies, January 2016: doi: 10.1093/res/hgv126
"Colonial Desire or Political Disengagement?: The Contested Landscape of Guthlac A," Journal of English and Germanic Philology 115 (2016): 61-78.
"St. Bertelme of Fécamp: St. Bertellin of Stafford by Another Name," published in Notes & Queries, April 2016: doi: 10.1093/notesj/gjw085
"An Irish Sovereignty Motif in Laxdæla saga," published in Scandinavian Studies 88 (2016): 60-76.
"Three Swords of Doomed Inheritance in Beowulf," in Old English Tradition: Essays in Honor of J. R. Hall, edited collection in progress, under contract in the Medieval and Renaissance Texts and Studies Series with ACMRS, the Arizona Center for Medieval and Renaissance Studies.
"Boars and the Geats in Beowulf," in Aspects of Early English Poetic Culture: Studies in Honour of Geoffrey R. Russom, co-edited with M. J. Toswell, forthcoming with Medieval Institute Publications (2016).
"The 'Dark Welsh' as Slaves and Slave Traders in Exeter Book Riddles 52 and 72," English Studies 95 (2014): 235-55.
"Death and the Landscape of The Fortunes of Men," Neophilologus 98 (2014): 325-36.
"Feminine Desire and Conditional Misogyny in Arthur and Gorlagon," Arthuriana 24.3 (2014): 23-44.
"Apples on Willow Trees: a Metaphor for Grafting and Spiritual Succession in the Early Irish Saints' Lives of Berach and Coemgen," Proceedings of the Harvard Celtic Colloquium 31 (2012): 56-73.
"Antifeminist Tradition in Arthur and Gorlagon and the Quest to Understand Women," Notes and Queries 59 (2012): 163-66.
"Booklet Ten of Peniarth 359: An Early Modern English Astrological Manual Encoded through Welsh Phonology," Studia Celtica 45 (2011): 159-83.
"Echoes of Britons on a Fenland Frontier in the Old English Andreas," The Review of English Studies 61 (2010): 669-89.
Office:
C136 Bondurant
lmbrady@olemiss.edu