McCool Lecture
2022 McCool Lecture in Faulkner Studies
We are please to announce the 2022 McCool Lecture in Faulkner Studies featuring speaker Sarah Stephens Loomis. Loomis will deliver her lecture, "Bland Treacherous Water: Thinking and Feeling Catastrophic Floods in Faulkner's 'Old Man'" on Monday, April 4th at 6:30 pm in Bondurant Auditorium on the University of Mississippi campus.
Sarah Stephens Loomis, a PHD candidate in the Department of English, is the 2021-2022 Francis Bell McCool Dissertation Fellow in Faulkner Studies. Her dissertation is entitled, "Diluvial Epistemologies in Flood Narratives of the US South Since 1927." She also holds a MFA in Creative Writing from Georgia College and State University.
For more information or if you require assistance relating to a disability, please contact the University of Mississippi Department of English at msgilmo1@olemiss.edu or 662.915.7439.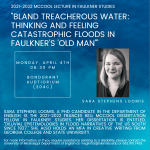 About the Endowment
Campbell and Leighton McCool of Oxford have established a $100,000 endowment to create the Frances Bell McCool Endowment for Faulkner Dissertation Fellowship. The scholarship honors Frances Bell McCool, McCool's mother and Ole Miss alumna, who died in 1994.
"Leighton and I strongly believe in what Chancellor (Robert) Khayat has done in the past seven years and his commitment to enhancing the national reputation of Ole Miss," said Campbell McCool, a 1985 UM grad. "We wanted to do something to help.
"We chose to establish a Faulkner scholarship in the English department and the writing program because we truly believe it is one of the areas where Ole Miss has a growing national reputation and can go head-to-head with any school," he added.
Frances Bell McCool, a 1959 UM graduate, taught high school mathematics for more than 30 years in Jackson and New Orleans. One of the first recipients of the Robert M. Carrier Scholarship, UM's oldest prestigious scholastic award, she graduated in three years with a degree in mathematics and education.
Campbell McCool said he is pleased to have this option for honoring the memory of his mother "who had such a significant impact on my life and loved Ole Miss as much as anyone who ever went to school here."
Plans call for the first McCool Fellowship to be awarded during the 2004-05 academic year, said Joe Urgo, chair of the Department of English.
"The McCool Fellowship will enable us to attract the most promising young Faulkner scholars to Oxford and advance this department's work toward being the epicenter of Faulkner studies in the world," Urgo said.
Faulkner was reared in Oxford and attended Ole Miss. He also served as the university postmaster and later made his home at Rowan Oak, near the UM campus. Since its creation in 1974, UM's annual Faulkner and Yoknapatawpha Conference, which draws scholars from around the world to Oxford, is one of the longest-running literary events focusing on the works of a single author.
English department plans are to offer the competitive fellowship biennially, Urgo said. Existing graduate stipends for English doctoral students are set at $10,000. The McCool Fellowship amount is yet to be decided. Recipients are to be chosen by a four-member committee, including McCool and Urgo.
Said Chancellor Robert Khayat: "The extraordinary gift of Campbell and Leighton McCool honoring Campbell's mother, Frances Bell McCool, provides an opportunity for Ole Miss to offer the only fully endowed Faulkner Dissertation Fellowship. Frances McCool was a wonderful student and teacher, and it is so fitting that her children have chosen to honor her by enabling others to become great teachers."
Frances Bell McCool comes from a long line of Ole Miss alums. Her grandfather, Dean James Warsaw Bell, was an alumnus and faculty member for some 50 years. He was instrumental in the formation of the School of Commerce at UM and served as its first dean for 20 years, after also serving as dean of the School of Education. Her father, James Warsaw Bell Jr., received both undergraduate and law degrees from Ole Miss and was appointed university postmaster when William Faulkner was fired from the position.
"Ole Miss has been such a large part of both of our lives," Campbell McCool said. "So it is a great honor to be able to give back to an institution that has given so much to our family."
Article by Deidra Jackson, 2004