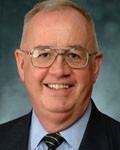 Professor Emeritus
Education
Ph.D., University of Kansas (1981)
M.Phil., University of Kansas (1973)
M.A., University of Chicago (1968)
B.A., DePauw University (1966)
Teaching and research interests
Restoration and Eighteenth-Century Studies
Dramatic Literature
Satire
Biography
Comedy
Tragedy
Selected Publications
Kullman, Colby H., and Philip C. Kolin, editors. Speaking on Stage: Inerviews with Contemporary American Playwrights. Tuscaloosa, Alabama: The University of Alabama Press, 1996.
Kullman, Colby H., and William C. Young, editors-in-chief. Theatre Companies of the World. 2 vols. Westport, Connecticut: Greenwood Press, 1986.
Kullman, Colby H., and Philip C. Kolin, co-founders and co-editors. Studies in American Drama: 1945-Present. Volumes 5-8. Columbus, Ohio: Ohio State University Press, 1991-1994. Volumes 1-4. Dexter, Michigan: Thomson-Shore, Inc. 1986-1990.
"Death of a Salesman at Fifty: An Interview with Arthur Miller." Michigan Quarterly Review 37, No. 4 (Fall 1998), pp. 624-634.
"Rule by Power: 'Big Daddyism' in the World of Tennessee Williams's Plays."Mississippi Quarterly 48, No.4 (Fall 1995), 667-676.
"Appreciating Gall: Boswell's Frank Wit." 1650-1850: Ideas, Aesthetics, and Inquiries into the Early Modern Era. Edited by Kevin L. Cope. New York: AMS Press, 1994, pp. 369-380.