Ben Child
An interview with current Colgate professor, Ben Child, on his experience in the MA and PhD English Department at UM, and the insights he received. 
"The [UM] English department is a hidden giant. They are willing to let you into their world and teach you."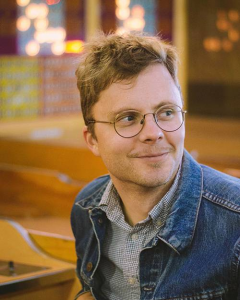 When we started the zoom interview, I asked Ben Child what he was drinking. He showed me his can of Polar Seltzer. I said something about White Claw over here and he laughed and said that Polar Seltzer was just seltzer— no alcohol. The official interview began!
Joshua Nguyen (JN): What is your field of study and what are you currently interested in?
Ben Child (BC): I am an Americanist (post-Civil War) with a specialization in the U.S South. I also teach courses in the environmental humanities. 
Right now, I am working on a new book that is interested in populism of the 1890s and how it came to be metabolized in different mediums. 
JN: What are some of your favorite pieces of literature? 
BC: Ooo, that's a tough question. There is a novel called Housekeeping by Marilynne Robinson that I deeply love. Jay Watson introduced me to that one. You might know the poet, May Swenson? I really enjoy her work lately. The rowdy syntax of Barry Hannah. Rita Dove. I've found a lot of favorites in the New York Review of Books Classics series: Butcher's Crossing, Sleepless Nights, Names on the Land, Warlock.
JN: (laughing) Any Faulker?
BC: Of course! I'm a serious admirer. UM's strength in Faulkner studies is really what drew me to the program.
JN: Did you ever drink by his grave while you were here?
BC: (laughing) No, I did not! Sounds fun! I think I paid tribute in other ways. 
JN: That's surprising! It feels like it's a big thing to do here if you're in the program!
JN: How has it been coming back to in-person teaching at Colgate during the pandemic? Any reflections or epiphanies from the past two years? 
BC: It's good to be around people again. We're all wearing masks. Zoom was fine but it made me…tired. It's hard to get energized about teaching through Zoom. I think the best way to treat the material is collaboratively and in-person. Discussion based. It's so easy to check out on Zoom.
In regards to any reflections in the past two years. I think everyone felt vulnerable in so many ways. In grad school, you already feel vulnerable. I was married with kids, so it was pretty intense.
I had gone through the tenure process— which in itself is designed to create vulnerability. I was granted tenure in December of 2019. Then, in just a few months, the uncertainty of the pandemic took over all of our lives. It was impossible to catch a breath. I know there is a privilege to have this kind of complaint. But it was like, "Here we are again. Who knows what's next?" Everyone in the world is feeling some version of that…I don't think this was a personal epiphany though.
JN: But I feel that, there is an idea we have in our head of the tenure track process and how it should look and how it should feel after you go through it.
BC: Yeah, I was expecting some sense of finality but it never quite happened. Or at least not all at once. It may not have happened anyway but the pandemic didn't help. Looking back, I can recognize how lucky I was to have gone through the process when I did and I am, of course, hugely grateful that it worked out the way that it did.
JN: What were some highlights from your time at UM? Any particular course or courses that stuck with you?
BC: Some courses that changed my life? Wow. I feel really lucky to have gone to graduate school at UM. One of the big reasons was the generosity I experienced. It's kinda rare for professors to be that generous with their time and energy. 
And some classes that shaped what I do now:
Katie McKee's Studies in Southern Literature class comes to mind. It was an overview of contemporary southern studies scholarship that I took in my first semester as an MA student, which was wonderful because after the undergraduate degree you have a fairly incomplete understanding of what "scholarship" is. So right away, we were dealing with one current monograph after another. Katie helped us all get a sense of the major figures in the field and to feel empowered to join the conversation, which was awfully generous—and trusting—of her. I can't imagine my dissertation without that course.
Jay Watson's Late 19th-Century Southern Literature class. Jay was my adviser and I have learned—and continue to learn—all kinds of crucial things from him. That course comes back to me all of the time, often in unexpected ways. It covered pre-Faulkner southern writing, and was essential for my first book—it's still important to my work now.
Leigh Ann Duck was a big mentor. She taught me a lot about modernism and different forms of media.
I could list another five or six classes if we had time. Annette Trefzer's Intro to Graduate Studies. Adam Gussow's seminar on the blues. 
The [UM] English department is a hidden giant. They are willing to let you into their world and teach you. 
One other thing: When I was there, there were a lot of cool people outside of the English department who had a big influence on me—people interested in music, film. There were a lot of ideas percolating in Oxford, both on campus and off.
JN: Were there any hardships or obstacles that you remembered having at UM? How did you manage it?
BC: I was married before I came, and Katie, my wife, and I had three kids across seven years in Oxford. That was pretty tricky. Figuring out how to balance time and finances. But it gave me a type of focus that turned out to be really useful. Everything seemed a lot more serious. 
JN: You had people rooting for you. 
BC: Yeah, definitely! And I had people I felt accountable to in an immediate way. 
But academically, all the resources I would have needed were available to me at UM. What I wanted to get out of grad school— I got it. Not everyone can say that. So I feel very grateful. 
JN: One piece of advice for folks who are applying to PhD programs?
BC: At Colgate, there are no graduate students. So I am thinking about undergraduates who express interest in going to graduate school. You have to do it for intellectual reasons. That has to be the primary motivation. If your motivation is just getting a job, there are better paths. You must be driven by a scholarly project— if that makes sense. There are just vanishingly few tenure-track jobs out there. 
But if you do it and take it seriously— the fruits are really rich. 
So run a risk/reward calculation and see if that works for you. Personally, I'm not sure I'd take the risk a second time. I should say though: we hear a lot of bad news about the job market now, but we were all hearing similar things when I was in grad school. It's important to be aware of the realities but if you commit yourself to grad studies, it seems unwise to let bad news shape your whole experience. 
JN: There's that thing that happens. People get disillusioned or jaded. 
BC: Yeah, definitely. They think, "This is not worth my time." Some people get engaged in this whole endeavor under false pretenses and then get disillusioned. So there probably needs to be more honesty on everyone's part.
Ultimately, it can be worth it. I hope the institutional structures of higher education can figure out better ways of making all the important work of graduate students in the humanities worth their time. 
JN: One piece of advice for folks who are about to get on the academic job market?
BC: Talk to Caroline Wigginton! (laughing) Take advantage of all the resources that you have. A lot of newly hired faculty members gave me essential advice when I was getting ready to go on the market. 
Obsess over your cover letter. Leigh Ann Duck told me that document would be the most important thing I'd write during my graduate school career—and she was right. Even though it's the most hateful kind of text, you need to take it really seriously. 
Also, getting stuff published as a graduate student is the single best way to distinguish yourself. So do what you can to get your work out there. 
JN: Any sense of Mississippi still with you while you're at Colgate? Has the south followed you or have you been able to keep it separate?
BC: Mississippi often feels like a hyper crystallized version of what's going on in the country as a whole, though people don't always recognize that. 
Colgate is in a rural part of New York state, more remote even than Oxford. Culturally, it's different. A part of this deals with their relative histories. 
The food is better in Mississippi. Music plays a different, bigger role in Mississippi as well. And, of course, a whole lot of this has to do with the influence of Black Americans on Mississippi and its culture. I miss the food and music a lot.
JN: So you're not eating catfish at Colgate?
BC: No way! (laughing) I had it once in Syracuse. I won't do it again. 
JN: Where can we find you and your work? 
BC: Well I don't really do social media (laughing).
My book came out two years ago. It's called The Whole Machinery: The Rural Modern in Cultures of the U.S South, 1890 – 1946 (University of Georgia Press).
The next thing I am working on is a piece on the Wilmington Massacre. In 1898, in North Carolina, there was a white nationalist insurrection. There was a fusionist movement (a coalition of Republicans and populists – white working-class populists and African Americans) that had a major presence in the city government and white Democrats were unsatisfied with this, so they drove big numbers of Black citizens out of town and killed dozens of people. I'm looking at three novels that were published in the immediate aftermath and thinking about how fusion can be both a political and aesthetic possibility.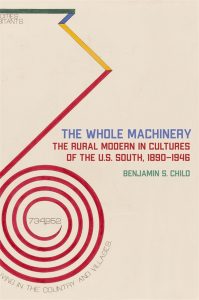 Ben Child teaches courses in American literature and the environmental humanities. His work has appeared in journals such as American Literature, Modern Fiction Studies, American Studies, Southern Cultures, and Popular Music and Society. Child's book, The Whole Machinery: The Rural Modern in Cultures of the U.S. South, 1890-1946, appears in the University of Georgia Press's New Southern Studies series. His current research addresses literary productions and interpretations of US populism.