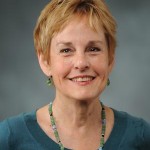 Ann Fisher-Wirth teaches poetry workshops and seminars, 20th-century American literature, and a wide range of courses in environmental literature. She also teaches yoga, and directs the Environmental Studies minor at the University of Mississippi. She has held a senior Fulbright at the University of Fribourg, Switzerland, and the Fulbright Distinguished Chair of American Studies at Uppsala University, Sweden. In 2006 she was President of the 1000-member Association for the Study of Literature and Environment (ASLE); also in 2006 she was Mississippi Humanities Teacher of the Year and College of Liberal Arts Teacher of the Year. She has received numerous awards for her work, which appears widely in journals, online, and in anthologies. She and her husband, Peter Wirth, have taught at the University of Mississippi for 25 years.
Education
Ph.D., English and American literature, Claremont Graduate School (1981)
M.A., English and American literature, Claremont Graduate School (1972)
B.A., magna cum laude, English, Pomona College (1968)
Teaching and Research Interests
20th-Century American literature
20th-Century poetry
Creative Writing (poetry, also creative nonfiction)
Ecocriticism
Literature and Environment
Selected Publications
The Ecopoetry Anthology, coedited with Laura-Gray Street, Trinity University Press, 2013.
Dream Cabinet  (poems), Wings Press, 2012.
Carta Marina

 (Wings Press, 2009).

Slide Shows (Finishing Line Press, 2009).
Five Terraces (Wind Publications, 2005).
Walking Wu Wei's Scroll (The Drunken Boat, online, 2005).
The Trinket Poems (Wind, 2003).
Blue Window(poems). Archer Books, 2003.
"The Authority of Poetry," Authority Matters: Rethinking the Theory and Practice of Authorship, ed. Stephen Donovan, Danuta Fjellestad, and Rolf Lunden, Rodopi, 2008.
"William Faulkner, Peter Matthiessen, and the Environmental Imagination." In Faulkner and Ecology, Ed. Joe Urgo, U MS Press, 2005.
"El Otro Sud: Willa Cather and Cormac McCarthy." In Value and Vision in American Literature: Literary Essays in Honor of Ray Lewis White, ed. Joseph Candido, Ohio UP, 2000, pp. 115-132.
Office
C212 Bondurant Hall
Curriculum Vitae
afwirth@olemiss.edu